Rüsten Sie Ihr Android für mehr Sicherheit und Privatsphäre mit einem VPN aus
UltraVPN unterstützt alle Geräte mit dem Android-Betriebssystem.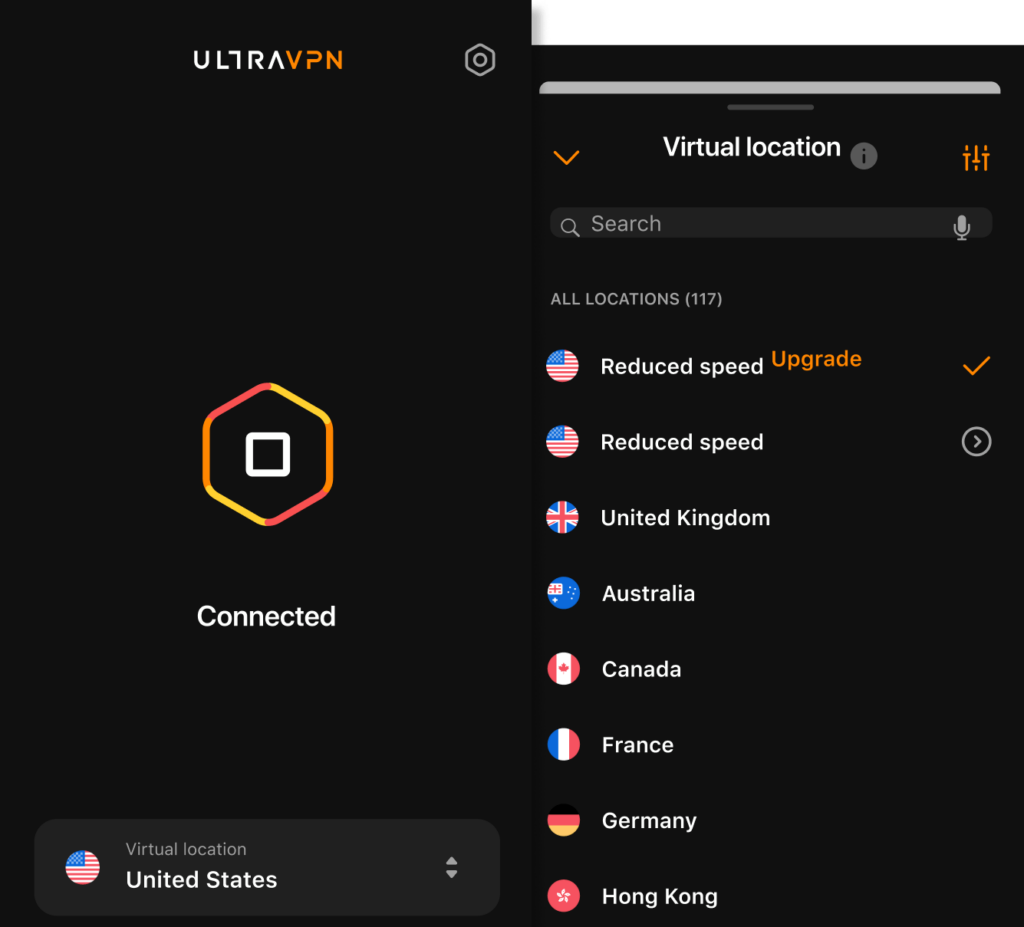 ULTRAVPN IST KOMPATIBEL MIT
macOs
Windows
Android
IOS
UltraVPN auf einem Gerät mit Android
Schritt 1
Klicken Sie und verbinden Sie sich mit dem Standard VPN-Standort.
Schritt 2
Klicken Sie auf Standort und wählen Sie einen anderen Server aus der Liste unserer globalen Server aus.
Schritt 3
Ihre Verbindung ist privat und geschützt, bis Sie diese deaktivieren oder Ihr Gerät neustarten.
Holen Sie sich die UltraVPN-App für Android
Kompatibel mit fast allen Gerät mit Lollipop 5.0 oder höher.
Verbinden Sie Ihr
Samsung, Google oder ein Gerät mit
Android Ihrer Wahl.
Kompatibel mit
Alle Android-Gerät mit Lollipop 5.0 oder
höher.
Warum sollten Sie UltraVPN installieren?
VPN ohne Stress
Mit UltraVPN stellen Sie ganz einfach und schnell eine Verbindung her.
Militärische Verschlüsselung
Unser militärischer Schutz verbirgt Ihre Aktivitäten vor neugierigen Blicken, während Sie verbunden sind.
Passwatch
Keep your online accounts and data protected with our Password Manager tool. Save your passwords, auto-fill your information and automatically create secure passwords so you don't have to!
Schnelle Video-Geo-Einstellungen
Installieren Sie sich die Erweiterung für Ihren Browser und wechseln Sie die Netflix-Seite, die Sie verwenden.
Unbegrenzt Daten
Anders als unsere Konkurrenz werden wir Ihre Verbindung nicht begrenzen.
Darkweb Überprüfung
With our solution we will ensure your information is safe – even across the dark web. We'll search, track and notify of anything that could compromise your security.
Warum sollten Sie sich für UltraVPN entscheiden?
Verbindet sich in Sekunden
Kein Geschwindigkeitsverlust
Militärische Verschlüsselung
Über 100 virtuelle Standorte
Entsperren Sie soziale Medien
Sehen Sie sich Sport-Events an